LOMAC 790 IN - 2019 - Second hand
LOMAC 790 IN – 2019
LOMAC 790 IN. This RIB is the trend-setter in the IN series in terms of spaciousness and furniture design, characterised by modern and original profiles. Equipped as always with a responsive Twinshell hull and a low float in the bow, this 790 IN surprises with a stable and sporty navigation. This bow area is accompanied by a large stowage locker covered by an extendable sundeck, in addition to the seat mounted in the front part of the central console, with a good shape and good interior stowage volume. The entire rear end benefits from the adoption of an antenna arch to support the two folding awnings that provide protection from the sun. An original pilot's seat, folding base and rear extension, plus a good rear seating area that can be converted into a solarium with an add-on.
Powertrain: 1 x Yamaha F250DETX
Condition: New in 2019, second hand, immaculate condition.
Flag: ES, List 6th, List 7th registration included if required.
Standard equipment included, see optional equipment included below.
Price includes:
Antifouling, Overhaul and Oil change done.
Mandatory safety equipment (waistcoats, flares, manual bailer and signalling mirror).
ITB inspection in force.
Launching
The boat is transmitted with invoice, the advertised price includes VAT and the management of the change of ownership.
Boat visible in our facilities. Consult guarantee conditions and delivery time.
Possibility of financing, after study.
From
77.500,00

€
incl. VAT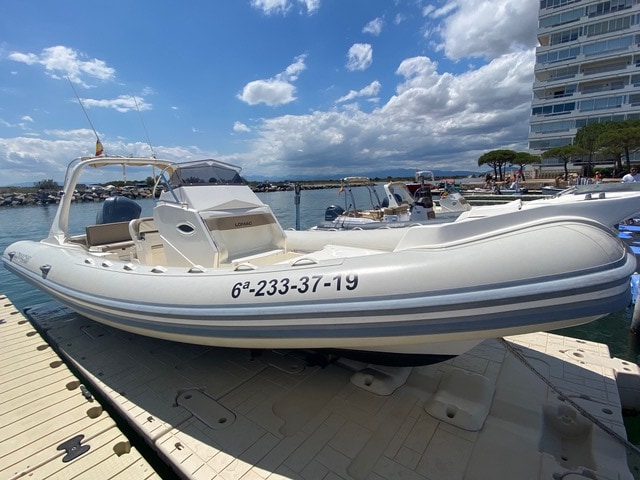 Features LOMAC 790 IN - 2019



Capacity max. passengers:
12

Recommended engine power:
250 cv
– Console complete with hydraulic steering wheel, stainless steel steering wheel
– Roll bar in fibreglass (vtr) with installed lights
– Instrument panel, 6 switch panel
– Stern bathing ladder and stainless steel bow roll bar
– Bow sunbathing cushion and stern sunbathing extension
– Manual pump
– Electric bilge pump
– Fuel capacity (litres): 255 L.
– Multifunction pilot/co-pilot seat.
– Water capacity (litres): 54 L
– Teak table
– Remote control electronic engine control
OPTIONAL EQUIPEMENT INCLUDED:
– 500 W electric windlass.
– Shower kit with 54 lt. tank.
– 7 kg anchor with 30 m chain.
– Anchor canvas
– Stainless steel parasol bonnet with roll bar bow and stern.
– 2 fenders and 2 mooring ropes included
– Bluetooth music system with two loudspeakers
– VHF radio + DSC
Motorization
Properly motorize your boat