LOMAC 8.5 GT
The GranTurismo line is the synthesis of three years of research and development to achieve the perfect balance between design, comfort and performance. The most exclusive family of boats in the Lomac range, also for the attention to detail, the richness of the materials and the possibility of customisation. Hulls optimised with specific CFD studies, vacuum vinylester resin infusion lamination, neopentil gel coat and aramidic fibres to reinforce t-top, bridge and hull. Design 100% Made in Milano by Federico Fiorentino. A perfect maxi-rib even as a luxury-tender. Invincible.
From
127.050,00

€
IVA incl.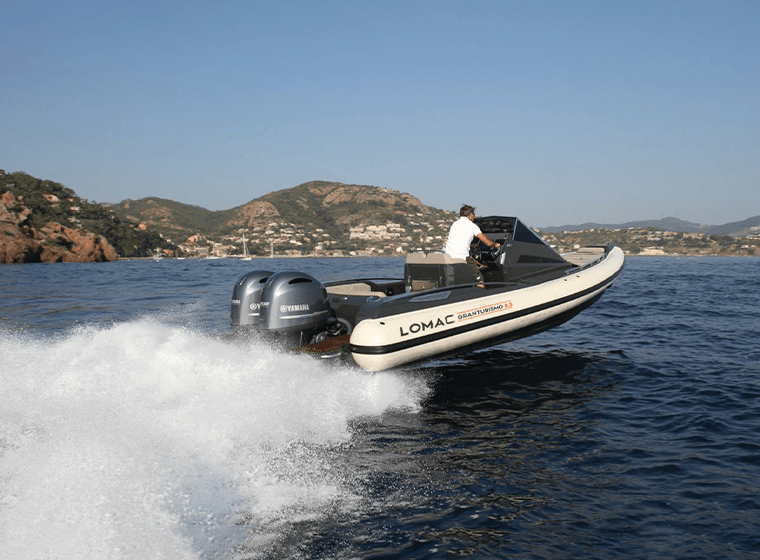 Features LOMAC 8.5 GT




Recommended engine power:
1x350 cv


Maximum engine power:
2x200 cv- 1x350 cv
Cockpit console complete with stainless steel windshield with stainless steel board, double stainless steel side handrails, lockable sliding glass door in cockpit, side and navigation lights.
Hydraulic helm, stainless steel steering wheel, hand-stitched leather steering wheel, navigation compass, acoustic horn, hydraulic steering wheel, hydraulic steering wheel, hydraulic steering wheel, hydraulic steering wheel, hydraulic steering wheel, hydraulic
steering wheel, hydraulic steering wheel, hydraulic steering wheel.
Instrument panel in console and internal electrical panel with 14 illuminated toggle switches, external 12 v. socket
Cabin with 2 berths, oak furniture, 12 v. power socket.
Separate bathroom with mirror and chemical toilet.
Courtesy lights in cockpit, on stern platform, on bow and stern service hatch with opening/closing piston dampers
Electric windlass with double control in console and bow, stainless steel anchor of 7,5 kg. With 50 mt. of calibrated articulated chain, table at bow and stern.
Shower on the stern platform with autoclave, rigid water tank of 80 Lts.
410 lt. stainless steel fuel tank, certified, with probe and fuel filter.
Piston-assisted sun canopy, retractable in the hatch integrated on deck
Complete stern and bow cushioning with stern cushion extension
Double seat pilot bench/seat, stainless steel fridge 65lt. integrated in seat
Teak stern platform and stainless steel retractable ladder, 3 mooring eyebolts, 4 aluminium cleats and 4 lifting eyes for the slings
2 paddle blades, manual pressure gauge for pressure control, manual inflator and automatic electric inflator and repair kit.
Stainless steel bow handle for easy boarding
Integrated sink under driver's seat
Electric marine toilet with 56 lt tank, charcoal filter, level gauge and indicator
Washbasin, oak furniture in the bathroom cabin
Shower in the toilet cabin
2-battery system complete with deviator and automatic load balancing device
3-battery system complete with diverter and automatic load distribution system
Stern electric table with control in the console
25 Amp. battery charger complete with charge indicator, cable with 10 mt. cable for dockside connection for 2 batteries
25 Amp. battery charger complete with charge status indicator, cable with 10 mt. cable for shore power for 3 batteries
Marine VHF GARMIN 115i with antenna
GARMIN 315i marine VHF with antenna
Radio FM-AM Fusion RA70N WW Bluetooth, 2 speakers 200 Watt, 2 tweeter and antenna
Radio FM-AM Fusion MS RA 770 Apollo Bluetooth, 2 speakers 260 watts, 2 tweeter and antenna
Stylish loudspeaker supplement
DA module
GARMIN GPSMAP 8410 xsv display 10″ colour touchscreen + fishfinder and NMEA sounder
GARMIN GPSMAP 8410 xsv display 10″ colour Touchscreen + fishfinder and sounder without NMEA
GPSMAP GARMIN 1223xsv dispaly 12″ colour Touchscreen with fishfinder and sounder without NMEA
GPSMAP GARMIN 1223xsv dispaly 12″ colour Touchscreen with fishfinder and NMEA sounder
GARMIN video camera to inspect the anchor well via the GPS screen
Chain meter counter on console
Bow thruster with control on console
Ski pole with reinforcing braces
Double bow trawl plate
Twin engine helm (for difference)
Underwater lights (white and blue)
Bow depth light
Change of logo colour (all white with dark background and all black with light background)
Full teak deck
Anchor tarpaulin for transport
Anchor tarpaulin
Console cover
Full seat cover tarpaulin
Motorization
Properly motorize your boat